Actress Stephanie Andujar shares her story
By Mike McKenna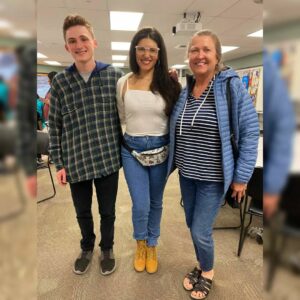 "Stephanie Andujar is a shining example of what it means when we give kids an opportunity to find their path to success."
That's what Laura Rose-Lewis, the executive director of the I Have A Dream Foundation (IHDF) Idaho, said as she introduced Stephanie to a crowd at The Community Library in Ketchum recently.
Stephanie first got involved with IHDF when she was a young girl growing up on the tough streets of New York City. Now 35, she is a successful actress, including playing major roles in the Academy Award-winning film, Precious, and popular TV shows like Blue Bloods, Law & Order and Orange is the New Black. Stephanie attributes her success to the two pillars of support she has had in her life: her mom, Carmen, and the I Have A Dream Foundation.
"I'm standing here today thanks to I Have A Dream," Stephanie said, as she fought back emotions. "If it wasn't for them, this little Puerto Rican girl wouldn't be here."
IHDF was officially founded in 1986, but was actually born several years earlier. When successful businessman Eugene Lang was asked to speak to sixth-graders at his old East Harlem elementary school, he planned on telling them that hard work was the key to success. But when he found out that only about 25% of them were likely to graduate from high school, he changed his speech. Instead, he promised to help pay the college tuition of any kids who would go on to graduate. Eugene made 61 new friends that day, and nearly all of them went on to graduate from high school.
There are now over 200 IHDF programs across the world. The nonprofit foundation helps assure that all children, especially those from underserved backgrounds, have the opportunity to pursue higher education, fulfill their potential, and achieve their dreams. IHDF provides academic, social and emotional support from elementary school through college, along with post-secondary tuition assistance.
Stephanie started with IHDF in third grade and stayed with the foundation all the way through Talent Unlimited High School and then Pace University, even when she had to take a break from her studies for acting roles.
"They didn't say 'No' to my dreams. They were always there for me," Stephanie said. "What makes dreamers so strong is the foundation they grow up in. It's more like a family—there's a sense of community. I feel so proud to be a dreamer."
Stephanie still stays in touch with other dreamers—"we're everywhere," she said.
"Some folks think that minorities aren't capable of learning. But we're all human beings. We're just all different," she said. "I Have a Dream doesn't make you feel like you have to prove anything. It reminds you that you are enough."
When asked about the keys to overcoming challenges in life, Stephanie leaned back on her IHDF background.
"There are no excuses for not doing what you want to in life. You've just got to do it, that's how you get ahead in life," she said. "We have it in us to not give up."
To find out more, go to IHDFIdaho.org.