By Mike McKenna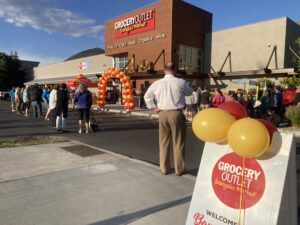 The biggest reason Shane Anderson wanted to move to Hailey and open a Grocery Outlet was because of the community.
Every time he'd visited here throughout his life felt like it was a "magical place." Not too long after making that dream come true and moving to Hailey, Shane found out his feeling about the community was true.
Last fall, Shane nearly died after contracting COVID-19. The fabulous folks at St. Luke's kept him alive. Meanwhile, numerous community members stepped up to help Shane's daughter and her three kids move to town for a couple months to keep the store running.
"I was really impressed with how the community stepped up to help," Shane said over beers recently at Sun Valley Brewery. "One of the reasons I chose Hailey is because I knew it had a great community and I wanted to be in a place where I could give back. But every time I try to give back to the community around here, I get even more in return."
Shane grew up in Utah and would come up to pursue his winter passion of snowmobiling. After raising three kids in Montana, he discovered Grocery Outlet when he went to visit his daughter and son-in-law, who owned one in Washington.
"The first time I walked in, I had the same experience so many people who walk into my store have. I was blown away at how clean and fresh everything looked and how amazing the deals were and how nice the staff was. It's definitely not your normal grocery store."
Grocery Outlet was founded in 1946 in San Francisco and has evolved into essentially a cross between a big box wholesale store and a typical supermarket. Basically, they purchase product overruns and package changes at discounted rates and then pass the savings on to the consumer. They offer everything from dry goods to fresh produce, meat and organic products.
"You can't get everything from me, and sometimes it's here today, gone tomorrow. What we have is always changing. But you can save up to 40% to 70% on items you want and that can make a big difference," Shane said.
Grocery Outlet Bargain Market went public in 2019 and last summer they celebrated their 75th anniversary by opening their 400th store in Hailey.
One of the things that makes Grocery Outlet stores unique, and is a key to their success, is that the owner-operator franchise model allows each store to cater to its community.
"I order 95% of what comes in so I can serve my community what it wants," said Shane, who can often be found stocking shelves and talking to customers so he can find out what we want.
That's why he now offers lots of healthy snacks, specialty cheeses and wine, and the cheapest beer in town, too. It's what we want around here.
"Community is important and that's why I'm proud to own a very community-oriented store," Shane said, adding, "and it's a store that offers crazy savings."
Grocery Outlet in Hailey is open daily from 8 a.m. to 9 p.m.