By Mike McKenna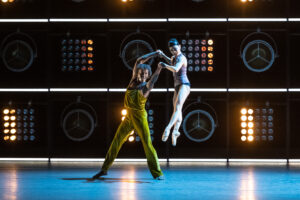 One of the things that makes the Wood River Valley such a special place—besides our world-class recreation and wonderful mountain views—is that culture is a big part of our community. We appreciate and celebrate great art, music and literature.
Ballet Sun Valley (BSV) has become a big part of our impressive cultural scene and has brought world-class dancers to our little slice of Idaho heaven since 2012. On June 24 and 25, the nonprofit will present the Boston Ballet at the stunning Sun Valley Pavilion.
"We're so proud to bring a ballet company of Boston Ballet's caliber to Sun Valley," said Kelli Quinlan, the executive director of BSV. "We love to be able to bring the best of ballet to our backyard."
Boston Ballet is one of the most highly respected ballet companies in America. They will be performing three new works that have only been seen in Boston. Two of the works were created as part of the ChoreograpHER Initiative, a female-led program that celebrates women across creative fields. ChoreograpHER pieces to be performed at Ballet Sun Valley are Point of Departure by New York City Ballet principal dancer and choreographer Tiler Peck and Chaptered in Fragments by Boston Ballet principal dancer and choreographer Lia Cirio. Each work includes music, design and visual art and is as distinct and unique as its choreographer. The third new work is set to the music of the Rolling Stones.
"It's cutting-edge and fun," Kelli said. "We hope people will come out and enjoy it. We want to make ballet a part of people's cultural activities in the summer and make it accessible to everyone."
Tickets for Boston Ballet's performances at the Sun Valley Pavilion June 24-25 start at just $35. Purchase them or find out more at BalletSunValley.org.
  The next Business After Hours (BAH) will be at Click IT and the new Hailey Heritage clothing store at 400 North Main Street from 5-7 p.m., Thursday, June 23. Everyone is welcome to attend and enjoy some live music on the patio of the Centennial Station building.
Be a part of the fun on the Fourth of July by entering your business, nonprofit or favorite cause in Hailey's Days of the Old West Parade. You can also donate to the fireworks and festivities, all by going to ValleyChamber.org. For more information, call (208) 788-3484 or email Info@valleychamber.org.